PAELLA VERDURES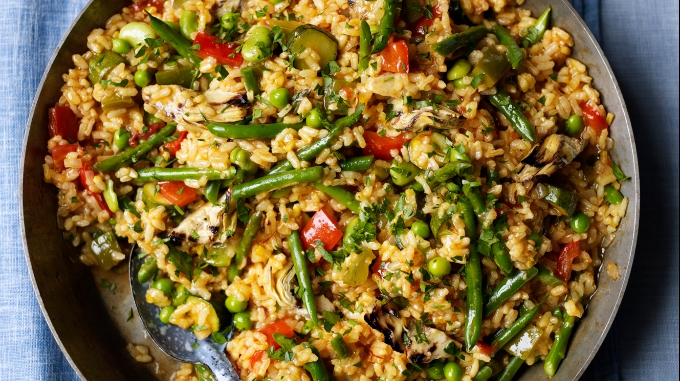 Serves: 6
Ingredients

1/2 teaspoon saffron strands
1 litre vegetable stock
240g shelled broad beans
100g fine green beans, topped and tailed and halved100g fine asparagus, cut into 5cm lengths
3 tablespoons extra virgin olive oil
200g small courgettes, cut into thick slices
1 medium onion, finely chopped
1 large red pepper, deseeded and chopped into 1cm pieces
1 large green pepper, deseeded and chopped into 1cm pieces
3 garlic cloves, finely chopped
1 teaspoon sweet pimentón
200g tomatoes, fresh or from a can, skinned and chopped
400g short grain paella rice, such as Calasparra or Bomba
2 tablespoons freshly chopped flatleaf parsley
100g shelled peas
280g jar chargrilled artichokes in olive oil, drained
fine sea salt and freshly ground black pepper
MethodShake the saffron strands around in a slightly hot frying pan for a few seconds until dry but not coloured, then tip into a small mortar or coffee cup and grind to a powder with the pestle or a wooden spoon. Add a splash of the stock and set aside.
Bring a pan of salted water to the boil. Drop in the broad beans, bring back to the boil and cook for 2 minutes. Lift out with a slotted spoon into a colander, leave to drain, then tip into a bowl.
Bring the pan of water back to the boil, add the green beans and cook for 3 minutes. Remove with the slotted spoon to the colander and refresh under cold water. Tip onto a plate. Bring the water back to the boil once more, add the asparagus, bring back to the boil, drain and refresh under cold water. Pop the broad beans out of their skins and add to the plate of green beans with the asparagus.
Heat 2 tablespoons of the olive oil in a large non-stick frying pan or shallow flameproof casserole dish over a medium-high heat. Add the courgettes and fry them for 2–3 minutes until a light golden brown. Lift out onto a plate.
Add the remaining tablespoon of oil and the onion to the pan and fry gently for 5 minutes.
Add the red and green pepper and continue frying until the onion is soft and lightly golden.
Stir in the garlic and pimentón and fry for 1 minute more. Add the tomatoes and fry for 2–3 minutes until softened, then stir in the rest of the stock, the saffron mixture and some seasoning to taste and bring to the boil. Sprinkle in the rice and the parsley, stir lightly to evenly distribute the rice around the pan, then scatter over the cooked beans, asparagus, courgettes, peas and artichokes and shake the pan gently so that they all bed down slightly into the rice. Lower the heat and leave to simmer vigorously for 6 minutes, then lower the heat again and leave to simmer gently for a further 14 minutes, until all the liquid has been absorbed and the rice is tender, but still with a little bit of a bite to it. Remove the pan from the heat, cover with a large lid or clean tea towel and leave to rest for 5 minutes before serving.
This recipe showcases summer vegetables like courgettes and fresh peas. Sweet pimentón (ground red pepper) and saffron are essential to any authentic paella. The latter is made from the stamens of crocuses – there are only three per plant, which explains why it's so expensive. Fortunately, you only need to use a tiny quantity.