CRISPY BROWN BUTTER PARSNIPS WITH THYME & CHILLI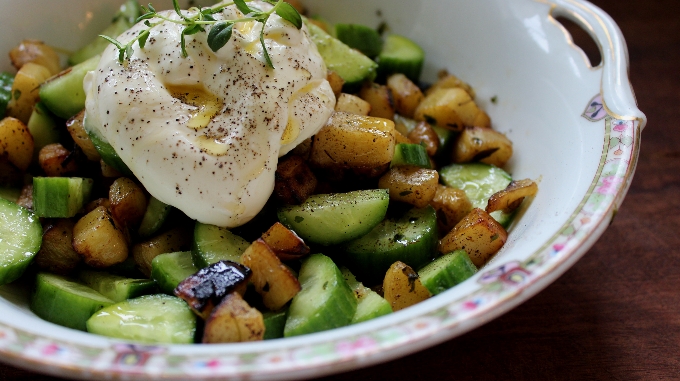 Prep 5 mins

 Cook 25 mins
Serves: 2
These crispy brown butter parsnips are deliciously crunchy with a tender sweet centre. This humble root vegetable is sprinkled with thyme and chilli, then toasted in a beautifully nutty brown butter. Delicious on its own or served with fresh cucumber and a big dollop of sour cream or natural yoghurt.
Ingredients
3 parsnips, cut in to small cubes
50g butter
a large handful of fresh thyme, finely chopped
1/2 tsp ground chilli
sea salt
pepper
to serve:
1/2 telegraph cucumber, halved lengthwise then sliced in to chunks.
a large dollop of sour cream or natural yoghurt
Method
In a bowl, add the cubed parsnip, thyme, chilli and a large pinch of salt and pepper. Using your hands, mix until well coated.In a large skillet on medium heat, cook the butter until sizzling. Give the pan a swirl to make sure the butter is cooking evenly. It will begin to foam, and the color will progress from yellow to a golden brown. Once you begin to smell the beautiful nutty aroma, remove from the heat.
Add the parsnips, and coat well in the butter. Return to the heat and toast, while stirring every so often until crispy. The parsnips will stick to the bottom a bit, but this is expected. Set aside to cool.
To serve, combine the parsnips with the cucumber pieces and mix well. Spoon over a large dollop of sour cream or yoghurt.
*gluten free
*grain free
*wheat free
*vegetarian
Petite Kitchen is a personal diary of wholesome, natural and simple recipes that nourish the mind, body and soul.