WINE PAIRINGS ADD FLAIR TO MEATLESS MONDAY DISHES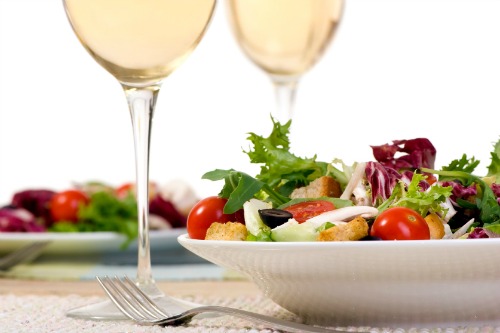 – 17 May, 2013
Article from Meatless Mondays USAImage Credit: Tom Perkins
From gourmet restaurants to casual neighborhood eateries, chefs across the country have jumped on board the Meatless Monday movement as a way to provide diners with healthy, sustainable and delicious meals. And now they're finding that the complex, unique flavors of vegetable-based dishes are enhanced when paired with selected wines and beers.
At Dovetail in New York, beverage director Jaimie Kaloustian has found new excitement in pairing the restaurant's Meatless Monday menu options with various beverages. She told Wine Enthusiast that vegetable-based dishes offer "the opportunity for unique wine pairings." One of Kaloustian's surprising favorites is pairing Sherry with asparagus and Brussels sprouts. Another great marriage, she says, is Belgian white ales with salads.
Attention to wine pairings is just the latest evolution in the rapidly growing support of Meatless Monday among culinary professionals. At Dovetail, chef and owner John Fraser offers a four-course prix fixe vegetarian and vegetable-focused menu on Mondays. And Fraser is far from alone. Fellow top chefs and Meatless Monday Movers & Shakers (including Marcus Samuelsson, Mario Batali and Michael Symon) have all applied their talents toward making Meatless Monday synonymous with delicious eating.
In Wine Enthusiast, Fraser and chef Rob Dalzell of The Ranch at Live Oak in Malibu, CA, offer some recipes displaying the breadth of flavors possible in vegetarian dishes – and suggest wine pairings for each dish.
These amazing flavorsome meals show that chefs are far from limited by leaving out the meat from some of their dishes. Instead, offering diners creative, sophisticated and healthy meals is a win-win for chefs and their customers.
Click here to find out what restaurants around the country are serving on their Meatfree Monday menu. If you have a special beer or wine pairing on your Meatless Monday menu, tell us about it on Facebook!