WATERCRESS SOUP WITH TOASTED ALMONDS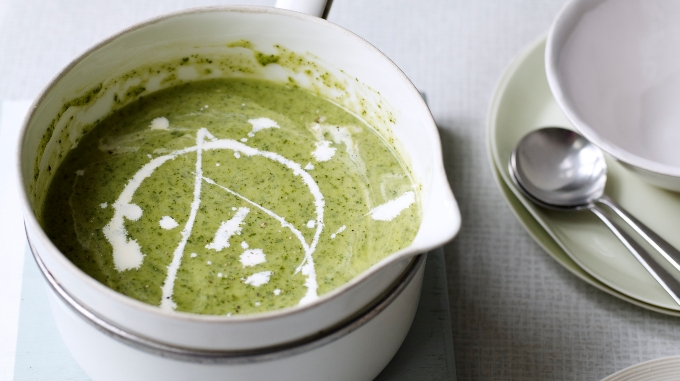 Serves: 3
Watercress makes you feel alive. It is packed with freshness and iron and has more than enough flavour to carry a dish. Linda used to do a version of this soup, which is incredibly easy to make.

Eating it will make you feel both virtuous and satisfied. The cream and garlic toasts add a touch of luxury, as do the flaked almonds, which are Stella's addition.Ingredients
50g unsalted butter
2 medium onions, chopped
1 garlic clove, crushed
2 medium floury potatoes, peeled and diced
850ml vegetable stock
3 bunches watercress, roughly chopped
120ml single cream
salt and freshly ground black pepper
2–3 tablespoons crème fraîche, to serve
2 tablespoons toasted flaked almonds, to serve

for the garlic toasts
6 thin slices of baguette, cut into long slices on the diagonal
2 tablespoons olive oil
1 rounded tablespoon freshly grated vegetarian Parmesan
1 fat garlic clove
1 tablespoon finely chopped parsley

Method

Heat the butter in a large saucepan and lightly fry the onions and garlic for 2–3 minutes until tender but not coloured. Add the potatoes and sauté gently for a further 3 minutes. Add the vegetable stock, cover and simmer gently for 15 minutes or until the potatoes are tender.

Meanwhile, make the garlic toasts. Preheat the grill and toast the baguette slices on one side. Mix the olive oil, Parmesan, garlic and parsley together and spread over the untoasted side. Place back under the grill until golden and toasted.

Add the watercress to the pan, cook for 2–3 minutes, then pour the mixture into a liquidizer and blend until velvety smooth. Pour back into the pan, add the cream, season well and reheat gently. Serve in bowls with a swirl of crème fraîche, the garlicky toasts and a scattering of,toasted flaked almonds.