TRADITIONAL CORN FRITTERS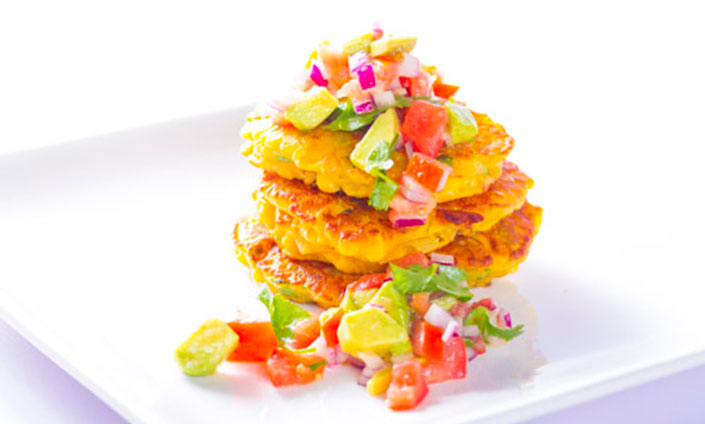 Serves: 5

Ingredients
MAKES 10 LARGE FRITTERS
1 medium onion finely diced
1 tablespoon oil
2 cups frozen or canned whole kernel corn (no need to defrost if frozen)
1 cup chickpea (besan/chana) flour
up to ½ cup water
1 teaspoon salt
3 tablespoons sweet chilli sauce
½ cup freshly chopped coriander
oil (for frying)
optional: salsa made from tomato, avocado, red onion and coriander (cilantro)
Method
1. Saute the onion and oil until soft.
2. Mix all the ingredients together in a mixing bowl. You may need to add up to an extra half a cup of water to achieve a thick paste.
3. Let the mixture sit for around 20 minutes in the fridge, then stir again. 4. If you are in a rush this is not absolutely necessary but you will end up with a more consistent mix that will stick together better.
5. Fry ¼ cup scoops with a little oil in a hot pan (ideally non-stick). Cook for around 3 minutes each side or until golden brown.
6. Serve immediately with salsa on top.
You can use wholemeal flour instead of chickpea flour in this recipe.
When making fritters I make a test one first to check consistency, the heat of the pan and that everything sticks together.

Recipes available from Revive Café Cookbooks. Buy it here
© Revive 2012.