TEMPEH & SPICED CAULIFLOWER PILAF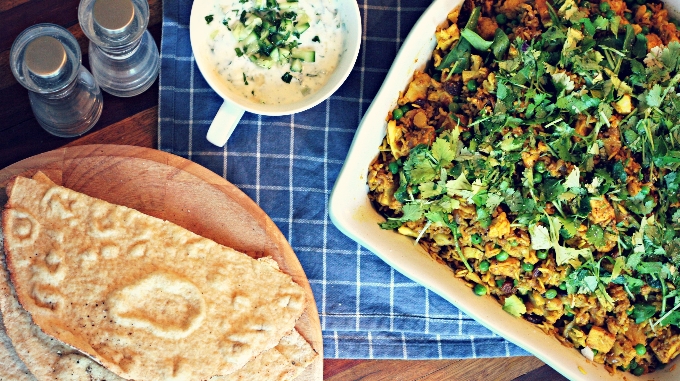 Prep 35 mins
Serves: 5

This is a fragrant, warming meal with bursts of spice, freshness and sweetness all in one. It uses tempeh, a rich and nutty fermented soy product found in the fridge section of most health stores. If you don't have tempeh, tofu works a treat.
Ingredients

3 tbs coconut or vegetable oil
450g (16 oz) tempeh, crumbled
2 tsp mustard seeds
1 brown onion, diced
3 tsp turmeric
2 tsp paprika
1 tsp ground cinnamon
2 tsp fresh grated ginger
¼ cup shredded coconut
2 cups basmati rice
4 cups veggie stock
600g piece of cauliflower, cut up small
2 cups frozen peas
½ cup sultanas
½ cup raw cashew nuts, roughly chopped
1 cup coriander, roughly chopped

to serve

4-6 naan bread
mango chutney
plain natural yoghurt mixed with mint and cucumber

Method

Heat 2 tbs of the coconut oil in a big frying pan over a medium-high heat, add the tempeh and fry for a few minutes until golden. Remove the tempeh from the pan and let sit on a paper towel.

Add the remaining oil to the pan along with the mustard seeds and heat over a medium-low heat until the seeds begin to pop. Throw in the turmeric, paprika and cinnamon and over a low heat combine the spices with the oil until to make a paste.

Add the onion and increase the heat a little continuing to fry until the onion is soft. Add the ginger and coconut and cook for just a minute before adding the rice.

Combine the rice well with the spices and onion, add the cauliflower and cooked tempeh and increase the heat. Add the stock and bring to the boil.

Cover and decrease the heat to low, and let it cook for 10 minutes or until rice is tender and stock nearly absorbed. Add the peas, stir through, cover and cook for a further few minutes until stock is fully absorbed and rice is cooked.

Stir through the cashew nuts (reserving a few for garnish) and sultanas, cover again and stand for 5 minutes before tossing through the fresh coriander.

Serve warm with naan bread, chutney and cucumber yoghurt and enjoy a delicious and warming Meat Free Monday!