SUMMER BERRY MUFFINS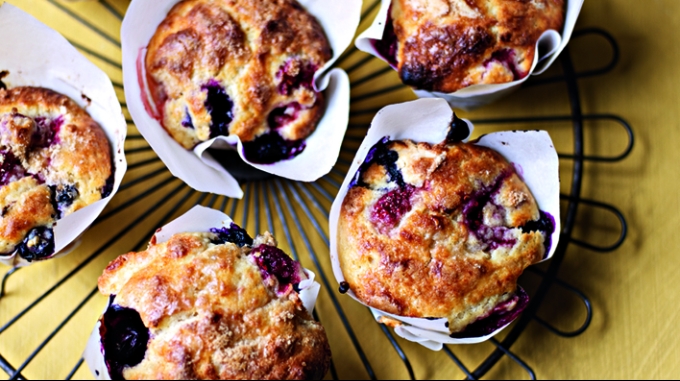 Preheat the oven to 180°C/gas mark 4.
Line a muffin tin with 8 paper cases. Mix together
200g mixed summer berries, such as strawberries, raspberries and blueberries. Hull the strawberries and roughly chop if using.
Sift 300g plain flour, 2 teaspoons baking powder, 1/2 teaspoon bicarbonate of soda, 125g caster sugar and a pinch of salt into a large mixing bowl.
In a separate bowl mix together 100g melted unsalted butter with 1 beaten organic egg, 250ml buttermilk and 1 teaspoon vanilla extract. Make a well in the middle of the dry ingredients, pour in the buttermilk mixture and add the mixed berries. Stir until just combined and divide between the muffin cases. Sprinkle the tops with 1 teaspoon soft light brown sugar and bake on the middle shelf of the oven for 15–20 minutes until golden brown and well risen. Best served warm or at room temperature on the day of baking.
Makes 8