SPELT RISOTTO WITH BUTTERNUT SQUASH, SPINACH, CHESTNUTS & GOATS CHEESE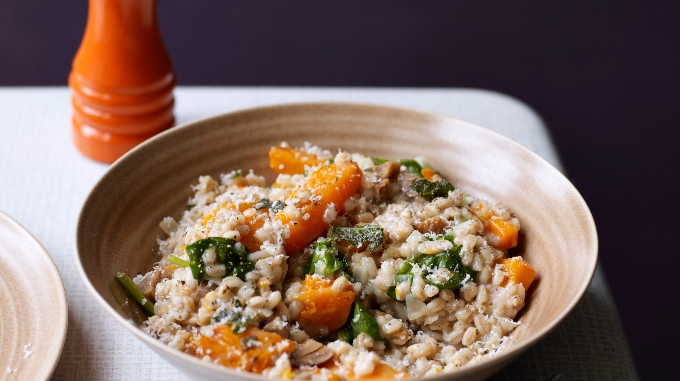 Serves: 4
Spelt is an ancient form of wheat, tastier and more nutritious than its inbred cousins. Quite a lot of people with wheat intolerance are fine with it. This healthy 'risotto' is a great way to get acquainted with it.
Ingredients1 butternut squash, peeled, deseeded
and cut into chunks
8 sage leaves, chopped
4 garlic cloves, whole and lightly bruised
4 tablespoons olive oil
25g unsalted butter
4 shallots, chopped
250g pearled spelt
200ml dry white wine
750ml hot vegetable stock
2 handfuls of baby leaf spinach
10 chestnuts, cooked, peeled and
roughly chopped
hard goat's cheese or pecorino
salt and freshly ground black pepper
MethodPreheat the oven to 190°C/gas mark 5.
Tip the butternut squash into a roasting tin, add the chopped sage and whole, bruised garlic cloves, season and toss in 2–3 tablespoons of olive oil. Roast for about 25 minutes until tender and starting to brown at the edges.
Meanwhile start making the risotto. Heat the remaining oil and the butter in a large sauté pan over a medium heat. Add the chopped shallots and cook until tender but not coloured. Add the spelt and stir to coat in the shallots and butter. Continue to cook for 1 minute until the spelt starts to smell slightly nutty. Pour the white wine into the pan, stirring all the time. Allow most of the wine to evaporate and then add the stock a ladleful at a time stirring frequently until all of the stock has been absorbed and the spelt is tender.
Add the roasted butternut squash to the pan along with the baby leaf spinach and chestnuts.
Stir to combine and season well with salt and freshly ground black pepper. Using a vegetable peeler shave the goat's cheese over the risotto and serve immediately.