REVIVE RAW SALAD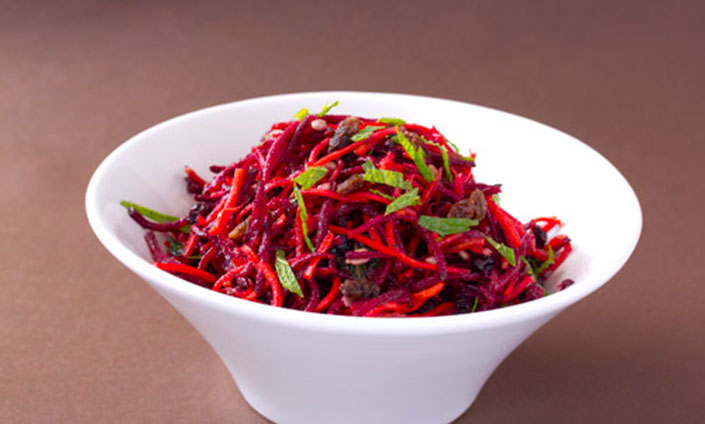 Serves: 4
Raw, fresh, citrus goodness. Invigorate yourself with this energy salad from Revive.

Ingredients
(Makes 6 x 1 cup serves)
• 1⁄2 cup sultanas
• 2 medium beetroot
• 4 carrots
• 10 mint leaves
• 1⁄2 cup sunflower seeds
ORANGE DRESSING
• juice of 1 orange (or 1⁄2 cup orange juice)
• 2 tablespoons balsamic vinegar
• 2 tablespoons honey or date puree
• 1 teaspoon salt
• 4 tablespoons oil
Method
1. Put the sultanas in some boiling water before you start to fatten them and make them juicy.
2. Grate the beetroot and carrots by hand or in your food processor using the grater attachment. 
3. In a cup mix the orange dressing ingredients.
4. Drain the water off the sultanas.
5. Combine all ingredients in a bowl and mix gently. 
NB: add the juice that comes off the beetroot when you are grating it.
Recipes available from Revive Café Cookbooks. Buy it here
© Revive 2012.