LENTIL STUFFED PUMPKIN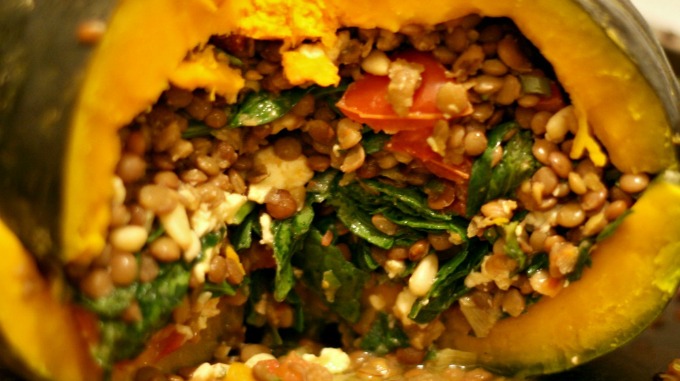 Serves: 4
Heat up your oven to 180 degrees C.
Chop your pumpkin in half, de-seed and place in the oven to soften. This makes excavating it much easier!
Mix up canned or cooked lentils (cooked in veggie stock is best), feta, spring onion, herbs and spices, tomatoes, spinach, salt, pepper, olive oil, a dash of wine vinegar and palm sugar, pine nuts, and anything else you fancy.
Take the pumpkin out of the oven – hopefully it's a little softer now and you can begin to carve out some of the the flesh, making room for the lentil filling. If you have a pumpkin with a large centre this step may not be necessary.
Pack the filling into your pumpkin tightly, adding some of the excavated pumpkin if you wish. Drizzle with a little oil to make it nice and moist.
Put the lid on and chuck it in the oven for around 50 minutes.
The result is pure deliciousness. You can get really creative with your fillings. Next time, I might try brown rice and a creamy tomato sauce using cottage cheese and a can of toms. Enjoy!