GREEK POTATO & FETA CAKE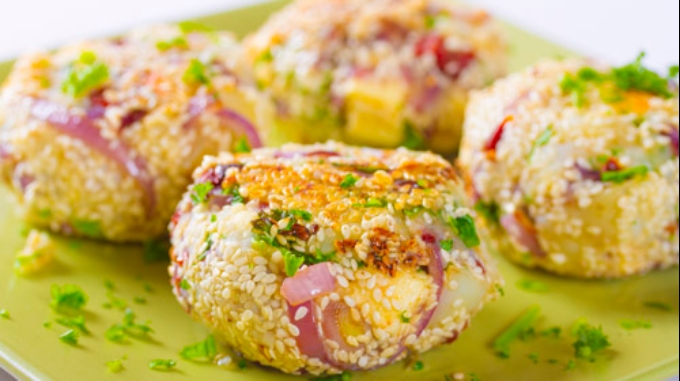 Serves: 4

Ingredients
(Makes 12 x ½ cup cakes)
1kg (2lb) white potatoes unpeeled (around 4 large)
2 red onions thinly sliced 2 tablespoons oil
1⁄2 cup sun-dried tomatoes sliced thinly
3 spring onions sliced
1 cup freshly chopped coriander (cilantro)
100g (3oz) feta cheese cut into small cubes
1 teaspoon salt
1 teaspoon ground cumin
1⁄2 cup white sesame seeds
2 tablespoons oil (for frying)
1⁄4 cup chopped parsley
Method
1. Cut potatoes into quarters and put in a pot of boiling water. Simmer until soft (around 10 minutes) and then drain.
2. Mash potatoes roughly so there are still some chunks left.
3. In a pan saute the onion and oil for about 5 minutes or until soft.
4. Combine all ingredients in a bowl (except oil, sesame seeds and parsley) and mix well.
5. Put the sesame seeds on a plate.
6. Measure out 1⁄2 cup of the potato mix and roll into a ball with your hands. Roll in the sesame seeds so it is liberally covered. Repeat with remaining potato mixture.
7. Heat a non stick frying pan with a little oil. Fry cakes for around 3 minutes each side or until lightly brown. Sprinkle with parsley and serve.
Recipes available from Revive Café Cookbooks. Buy it here
© Revive 2012.