For Your Wallet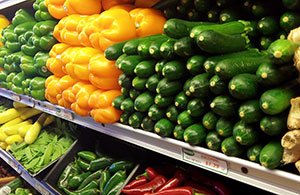 You might be surprised to learn that vegetarian food is not only good for your health and the environment; it's also easy on your wallet! Food prices are continuing to rise, especially in packaged items and meat, which require extra expenses like feed and transportation. Forgoing meat once a week is a great way to cut the weekly budget. In fact, many staple vegetarian foods cost very little and can be found in the grocery store – not just in specialty markets. Whole grains like quinoa, barley and brown rice, legumes like chickpeas and soybeans, and other beans like black-eyed peas and black beans are protein packed and very inexpensive – certainly cheaper than processed and packaged foods! Bought in bulk, whole grains and beans can cost just pennies per meal. And because they are full of fibre they make you feel full and satisfied (put them into soups, stews, salads, burritos, etc.) without the side effect of heaps of saturated fat from animal protein. One block of tofu will provide a hearty meal for two, at half the price of two cuts of meat. Fresh and seasonal vegetables and fruits can be found at supermarkets and farmers' markets for very reasonable prices.
But that's not all. Giving meat a rest once a week will also help to curb both your personal and our national healthcare expenses in the long run. If you think these don't affect you so much, think again. At the individual level, being sick is expensive. Moreover, a huge part of our country's annual budget is committed to health-care costs, paid for by your tax dollars. There are also indirect healthcare costs due to lost productivity.
Here are some smart shopping tips to help you save on your food bills:
Buy in season. Produce in season is usually less expensive than out-of-season produce because it's more abundant.
Where possible avoid pre-cut, washed, and packaged fruits and vegetables. They're more expensive (and use more packaging) than whole foods
Farmers' markets are a great place to find fresh, in-season, and locally grown produce for cheap — especially if you shop at the end of the market day, when growers may be willing to sell their produce at a discount!
Frozen veggies, particularly the store brands, are a steal! They are often cheaper than fresh ones, and can actually be more nutritious because the veggies are frozen right after they're picked, preserving their nutrients. Keep an eye out for sales and stock up your freezer with veggies that can be tossed into soups, stews, stir-fries, pasta, and many other dishes.
Grow your own! Turn your backyard, patio or kitchen windowsill into valuable real estate and enjoy home grown fruits and vegetables all year long. You'll get fresh, organic food for a fraction of the price. Seedlings are fantastic, but growing from the seed is mega cheap!