CUT RED MEAT INTAKE AND DON'T EAT HAM, SAY CANCER RESEARCHERS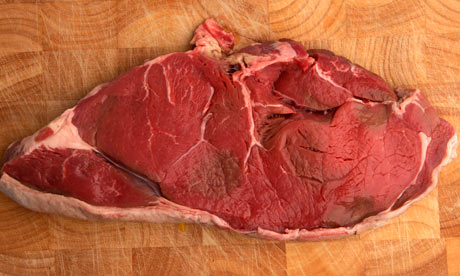 Denis Campbell, The Guardian, Monday 23 May 2011 – 23 May, 2013
Cancer experts have issued a fresh warning about eating red and processed meat after "the most authoritative report" on the subject blamed them for causing the disease.
The World Cancer Research Fund (WCRF) is advising people to limit their intake of red meats such as beef, pork and lamb, and to avoid processed meat such as ham and salami altogether. "Convincing evidence" that both types of meat increase the risk of bowel cancer means people should think seriously about reducing how much they eat, it recommends.
The charity kickstarted a global debate in 2007 when it published a study which identified meat as a risk factor for a number of different forms of cancer.
WCRF-funded scientists at Imperial College London led by Dr Teresa Norat studied 263 research papers that have come out since then looking at the role of diet, weight and physical activity in bowel cancer. An independent panel of leading cancer experts then reviewed their conclusions. "For red and processed meat, findings of 10 new studies were added to the 14 analysed as part of the 2007 report. The panel confirmed that there is convincing evidence that both red and processed meat increase bowel cancer risk," said the report .
"WCRF recommends that people limit consumption to 500g (cooked weight) of red meat a week – roughly the equivalent of five or six medium portions of roast beef, lamb or pork – and avoid processed meat," it added. About 36,000 Britons a develop bowel cancer every year, and some 16,500 die from it. It is the UK's second biggest cancer killer after lung cancer.
About 17,000 cases a year (43%) could be prevented if people ate less meat and more fibre, drank less, maintained a healthy weight and kept active, the WCRF says.
Its 850-page report, releasedon Monday, is "the most authoritative ever report of bowel cancer risk", cancer prevention experts claim.Professor Alan Jackson of Southampton University, the chair of the WCRF's continuous update project expert panel, said: "On meat, the clear message that comes out of our report is that red and processed meat increase risk of bowel cancer and that people who want to reduce their risk should consider cutting down the amount they eat."
Growing concern about red and processed meat prompted the government in February to advise consumers for the first time to consider cutting down. That came after the Scientific Advisory Committee on Nutrition (SACN), experts who advise the government, examined the evidence on the subject. It decided that those meats probably increase the risk of bowel cancer.
People who eat 90g or more a day should cut down to the UK average of 70g, SACN recommended. It advised having smaller portions or eating those meats less often. A 70g serving could be three slices of ham, a lamb chop or two standard beef burgers.
WCRF's review has also firmed up from "probable" to "convincing" its view of the protection against bowel cancer afforded by eating foods containing fibre, such as wholegrains, pulses, fruit and vegetables.
Milk, garlic and dietary supplements containing calcium also "probably" reduce the risk, the expert panel concluded.
But farmers' leaders denounced the WCRF's new report and accused it of deliberately choosing the first day of National Vegetarian Week to publish it in order to maximise publicity for conclusions which the charity first reached years ago.
Chris Lamb, a spokesman for BPEX and EBLEX, which represents England's pig, beef and lamb farmers, said: "Average consumption has been in or around 500g a week for a few years. The vast majority of consumers aren't exceeding this and don't have to worry about [this]", he said.
The risks identified by the WCRF were unchanged, he stressed.
Lamb argued it was unfair for the WCRF to highlight meat as a contributory cause of bowel cancer when the main risk was to people who are generally unhealthy, for example by consuming too much food, alcohol or fizzy drink.
"They aren't assisting consumers. Consumers eat and enjoy meat as part of a balanced diet, and meat plays a valuable part in that balanced diet", said Lamb. "If you eat or drink anything in excess it's a danger. Therefore, if you can pick on meat in order to get headlines, then you aren't actually helping consumers."
Professor Dame Sally Davies, the chief medical officer for England, said red meat can form part of a healthy, balanced diet. "It is a good source of protein and vitamins and minerals, such as iron, selenium, zinc and B vitamins," she said, "but people who eat a lot of red and processed meat should consider cutting down. The occasional steak or extra few slices of lamb is fine but regularly eating a lot could increase your risk of bowel cancer."
Bowel Cancer UK chief executive Deborah Alsina said: "The report significantly adds to the available evidence into the increased risk of bowel cancer from eating too much red and processed meat; and strengthens the evidence of how eating food with fibre in it protects people against the disease.
Hazel Nunn, a senior health information officer at Cancer Research UK, said: "With barbeque season just round the corner, this is a timely reminder that how much alcohol you drink, how active you are, your weight, and how much red and processed meat and fibre you eat can all have a bearing on your risk of bowel cancer."
Denis Campbell, The Guardian, Monday 23 May 2011